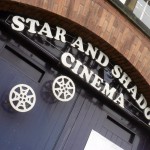 The Star And Shadow Cinema is a community cinema that is run entirely by volunteers and has a great friendly atmosphere.
The cinema moved to it's current location in 2006 and aims to show a truly independent films as cheaply as possible, as well as providing a venue for artists and musicians of all varieties.
We will be using a verity of spaces in the building including the Bar and the cinema. Joined to the back of the venue is Maker Space, Newcastle's first hack space, that will be available for soldering and the like.
More information about the venue can be found on the official web site.

View Maker Space in a larger map