March 26, 2010
BarCampNorthEast3 done and dusted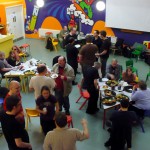 BarCampNorthEast3 is now over and we have just about recovered. A big thank you for coming and making the event the success that it was, and a special thank you to our hosts and sponsors. We could not have done this without the support of the Yahoo! developer network, the Centre for Life, Newcastle science festival, Microsoft and Super Mondays.
I must also take a few moments to thank the many people who contributed by publicising the events. We relied almost entirely on word of month this year and achieved a record attendance of over 80%. There were 44 attendees in total, 21 staying over night, and 29 in on Sunday. If you want to keep in contact with fellow attendees please add your details to the wiki. We have already had lots of positive feedback but please don't forget to blog about the experience and tell others about how much you enjoyed BarCamp.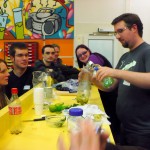 Most importantly a big thank you for attending and making the event what it was. Whatever we do to make a BarCamp happen it is the people who come along, give presentations, run session, and generally help out that make it a real success.
There is already talk about BarCampNorthEast4 and I (Alistair) look forward to it. Although it is not hard to organise a BarCamp it is time consuming and realistically it is now too big for one person to organise in their spare time. Because of this I am taking a step back and asking for others who can spare a few hours a week to step forward and at least in part make BarCampNorthEast4 a reality. If you think you can help then please get in touch.
Thank you all once again.